Custom Packaging Boxes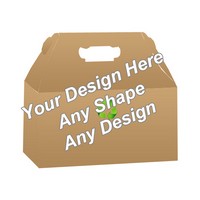 We specialize in the supply of the custom boxes which are available in different styles and materials. Our customers can choose from a variety of boxes which can be used at different places. Our supplied custom packaging boxes are made from premium quality materials where we make sure that only the best quality boxes are supplied. The boxes supplied by us can also be used to store food items where the custom food packaging can be used to store your perishable eatables.
We offer a variety of styles for the custom packaging boxes where the shapes like circular, square and rectangular boxes are available. We also offer the die-cut boxes which can have your desired kind of unique shape while the custom shape can have your desired kind of text on the box.
Our customers can choose to have the custom box designs made from materials like cardboard and plastic where the cardboard ones look classic and look attractive. The plastic custom packaging boxes are also available which lets you get waterproof boxes and they are durable enough which can last-long.
Our customers are also offered the ability to get their desired kind of personalization where you may get the boxes embossed or stamped with your logo or any text. We also allow our customers to get their boxes supplied in different colors where full-color option is available.
Our customers can choose to have the custom boxes supplied at attractive rates where we make sure that the ordered items are shipped according to the requirements of the customer. You can also get the ordered boxes shipped to any location in the United States.
Custom packaging boxes

are so versatile and flexible that you can customize their every aspect according to your needs and specifications. We manufacture these boxes with utmost perfection which will dazzle your customers and will enforce them to buy your products. You can also use

custom packaging boxes

for different purposes such as gift boxes, give away boxes etc.